Hello! I'm Carrie Geno, the owner and creative spirit of Geno Photography. I love my work and enjoy the opportunity to get to know each of my clients.
Some Fun Facts About Me:
I have two smart, beautiful daughters who I absolutely adore and are growing way too quickly.
I am the proud wife of a soldier.
I enjoy meeting new people and hearing their stories.
I LOVE cake, especially cupcakes!
I adore traveling. So far I've been to 28 states, as well as to Canada, China, Australia, Japan, Iceland, & France. Hopefully, Italy will be added to my list soon!
I have so much fun being crafty and creative: sewing, crocheting, knitting, cooking, you name it. If I get an idea for something, I figure out a way to create it.
My favorite season is fall: the colors, the smells, the weather, LOVE IT!
I was born in North Carolina and have since lived in five different states. I love living in Iowa, but there are times my heart misses the mountains.
I adore thrift stores and vintage items.
My favorite color is blue.
I'm a nerd. I love Lord of the Rings, Harry Potter, Dr. Who, Star Wars, and so many more.
I adore coffee. Coffee is wonderful.
My Journey
I've had a camera in my hands since I was a child, capturing moments spent with friends using my little 110 camera and flash cubes. In eighth grade, my father, another great lover of photography and my biggest cheerleader, gave me his SLR camera and I was hooked. Each time a roll of film was developed it was like Christmas morning! The images were more than pieces of paper, they were tangible memories. It was then I realized the beautiful power of photography.
I began my studio sophomore year of college. While in college, I shot film and greatly enjoyed my time in the darkroom. Since graduating, I have embraced the digital world of photography and love it.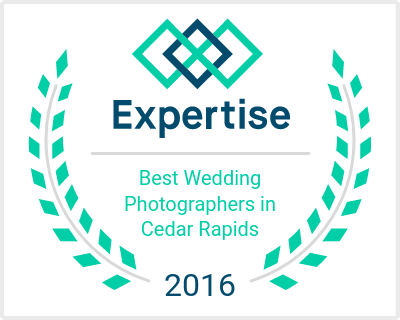 I'm so excited! Geno Photography was recently named among the Top 20 Wedding Photographers in Cedar Rapids by Expertise. It is such an honor!